Loaded Nachos with Cliantro Lime Drizzle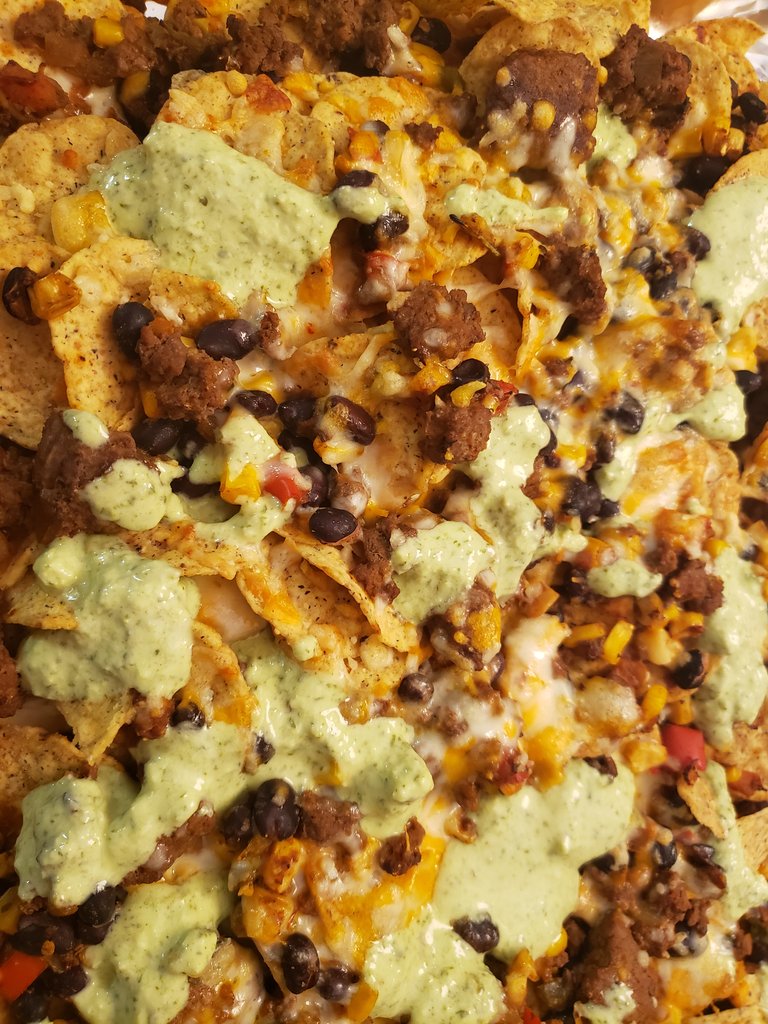 DESCRIPTION
Loaded Nachos with Cilantro Lime Drizzle - a new twist on an old favourite!
INGREDIENTS
1/4 cup oil
1/4 cup water
1/2 cup chopped green onions
1/2 cup cilantro leaves
2 cloves garlic
1/2 teaspoon salt
juice of 2 limes
1/2 cup sour cream or full-fat Greek yogurt
Loaded Nacho Topping
2 lbs Butcher Box.ca 100% grass fed grass finished ground sirloin
1 can black beans, drained and rinsed
1 can or 1 cup of corn niblets, drained
3 ancho chipotle peppers, diced
1 red sweet pepper (or any colour), diced
1 sweet onion, diced
1 tsp cumin
1 tsp seasoning salt
1 tsp cayenne pepper
1 tsp ancho chipotle pepper
INSTRUCTIONS
Step 1
Lime and cilantro drizzle - place all ingredients in a blender or food processor and blend until smooth. Place in sealed container if refrigerator to allow flavours to blend.
Step 2
In a large skillet heat a small amount of olive or avocado oil - add ground sirloin and cook, stirring and breaking up as it browns. Once browned, drain, return to pan.
Step 3
Add diced onion, sweet pepper, ancho peppers and seasonings, cook until onion and pepper are starting to soften.
Step 4
Add cilantro and pico de gallo, simmer for about 5 minutes to allow flavours to blend.
Step 5
On a foil lined cooking sheet, spread a layer of nachos, then some of the ground beef mixture, then cheese. Repeat layers as needed/desired.
Step 6
Place in a 350 over until cheese melts and is bubbly.
Step 7
Drizzle with the lime cilantro mixture - and get out of the way...
**Add toppings of shredded lettuce, diced green onion, diced tomato, sliced black olives, sliced jalapenos...
**Have the guacamole and sour cream nearby for added dipping/topping flavours.
**You can substitute our naturally raised Angus lean ground beef, air chilled ground turkey or chicken or our Ontario lean ground pork - or any combination of those!
---