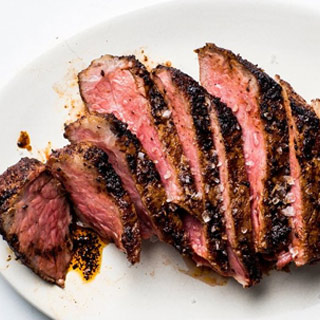 INGREDIENTS
2 tbsp ancho chile powder
2 tbsp espresso grinds (or use good quality, medium to dark roast, finely ground coffee beans -NOT instant!)
5 tsp dark brown sugar
1 tbsp hot smoked Spanish paprika
1 ½ tsp dried oregano
1 ½ tsp freshly ground black pepper
1 ½ tsp ground coriander
1 ½ tsp mustard powder
1 tsp chile de arbol powder (or ¾ tsp finely ground red pepper flakes)
1 tsp ground ginger
1 tbsp kosher salt, plus more
2 11 oz Butcher Box.ca NY striploin steaks (you can use any of our delicious, naturally raised, locally sourced steaks!)
2 tbsp vegetable oil



INSTRUCTIONS
Step 1
Mix all spices except salt in a small bowl.
Step 2
Season steaks with salt, then coat with 5 tsp spice rub per steak (save any extras for next time!)
Step 3
Place steaks on a wire rack set inside a rimmed baking sheet and chill uncovered 3 – 6 hrs.
Step 4
Remove from fridge and let sit about 1 hr to come to room temperature, this can help steaks cook quickly and evenly.
Step 5
Preheat oven to 400F. Heat oil in large oven safe skillet over medium-high heat. Cook steaks 2 mins or so per side to create a nice crust. Transfer skillet to heated oven; cook steaks until an instant-read thermometer inserted into the thickest part reads 120 for medium-rare, about 5 minutes. Transfer to cutting board, let rest 10 minutes, slice ½" thick.
Step 6
For the grill – preheat grill to 450F. Place the steaks on the grill and cook until golden brown and slightly charred, 4 to 5 minutes. Turn the steaks over and continue to grill 3 to 5 minutes for medium-rare (an internal temperature of 135 degrees F), 5 to 7 minutes for medium (140 degrees F) or 8 to 10 minutes for medium-well (150 degrees F).
COOKERS' NOTES
Ø Not everyone believes in letting steaks come to room temperature before cooking, this is a preference step - I do it and swear by it.
Ø Resting the steak before cutting is important to the juice staying in the meat – your taste buds will thank you for this step.
---