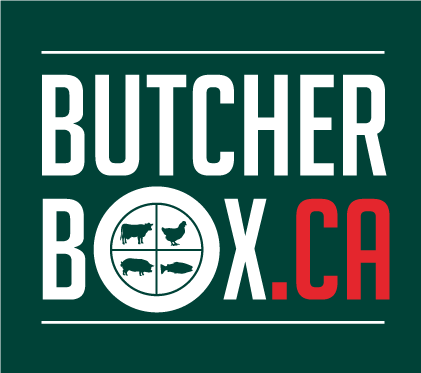 Prep Time : 00h 10
Cooking Time : 00h 15
Servings Number : 4 people
Cripsy haddock bites with a kick over a zingy sriracha and ginger seasoned bowl of noodles - a flavourful treat!
2 - 3 fillets ButcherBox.ca wild Icelandic haddock fillets
14 oz Pak Choi (bok choy)
2 tsp black sesame seeds
1.5 - 2 tsp sriracha hot chili sauce
2 tbsp fresh ginger root
4 green onions
2 limes, juiced
2 tsp dried red chili pepper flakes
4 whole wheat noodle nests (available in the grocery store)
8 tbsp corn flour
4 tbsp soy sauce
4 cloves garlic
2 tsp sugar
4 tbsp light sesame oil or olive oil
Boil 4 - 6 cups of water, set aside.
While the water is boiling, tear green leaves from pak choi and set aside. Chop white bases roughly, removing and discarding the tough stalks. Clean, trim and slice the green onions on a diagonal.
Once water is boiled, add noodle nests to a pot, pour boiling water over them to submerge. Bring back to a boil over high heat and cook 5 - 7 minutes until al dente (tender crisp). Drain and transfer to a large bowl, set aside.
While noodles are cooking peel and grate your ginger and garlic.
Comgine 3/4 of the soy sauce with the sriracha (you can use a little less if you don't like spice, more if you want to heat it up), chopped ginger, sugar, sesame oil and the juice of both limes - shake or stir to blend very well. Cover and set aside to allow flavours to blend.
Return pot to stove at medium-high heat with a drizzle of oil - for this, we suggest using olive oil as sesame oil will burn. Once oil is heated add the chopped pak choi bases and garlic. Cook for 1 - 2 minutes, until just softened. Add the green leaves from the pak choi and cook, stirring constantly, until just wilted. Add to noodle bowl.
Cut haddock fillets into rouch cubes, place into a bowl with the remainin soy sauce and stir or toss gently to coat. Add corn flour, toss gently again to coat the haddock bites, then sprinkle in and mix in the chili pepper flakes.
Heat a large, non stick skillet with more olive oil until shimmery over high heat. Add haddock bites and cook, approximately 1 min per side/edge until golden, crispy and flaking easily.
Add ginger and soy sauce dressing to noodles and pak choi, toss lightly to coat. Add crispy haddock bites on top of noodles and garnish with sliced green onions and black sesame seeds. Serve immediately.